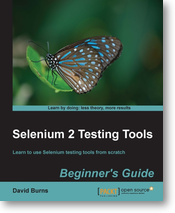 Available
Loan Status:
AVAILABLE
Borrower:
Unknown
Borrow date:
Unknown
Book Detail
Title:
Selenium 2 Testing Tools
Book number:
PZ0062
Language:
English
Author:
David Burns
Publish date:
2012
E book:
Y
Publisher:
Packt Publishing
ISBN:
978-1-8495-1830-7
Links:
http://it-ebooks.info/book/1125/
Additional info:
pdf version is available
Ad blocker interference detected!
Wikia is a free-to-use site that makes money from advertising. We have a modified experience for viewers using ad blockers

Wikia is not accessible if you've made further modifications. Remove the custom ad blocker rule(s) and the page will load as expected.